As its name suggests, Urban Apiculture is one that takes place in cities. It is a movement that began in the middle of the twentieth century, that is, it has been around for several decades, mainly in the cities of New York, Paris and London.
There are two types:
The one that bets to place beehives in parks, green zones and private gardens
The one that focuses on installing the hives on the roofs of buildings as Sherlock teaches us in the Elementary series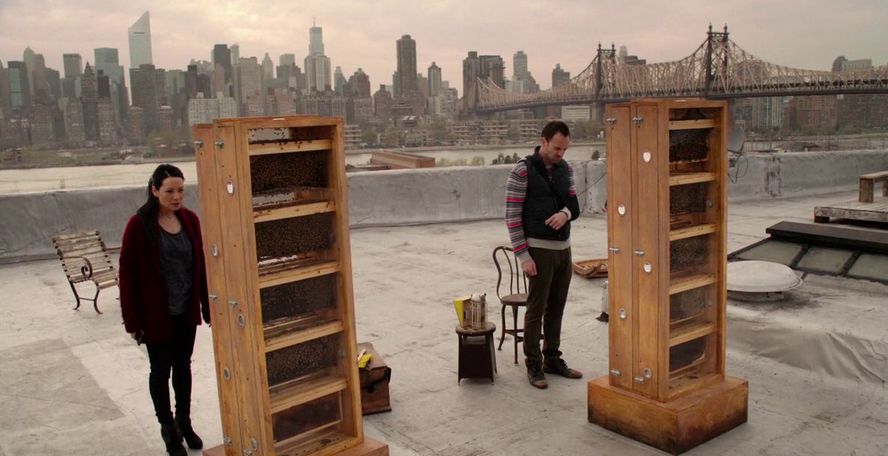 Tall buildings pose a lower risk to the public, as bees are not found on the street where there is more human movement.
But what interest can we have in keeping hives in our cities? Well, beekeeping is a passion for many people and for a variety of reasons: some focus on getting wax and honey, while others do it for pleasure, because it helps them relax, others do it to contribute caring for the life in the world…
Therefore, we should not be surprised by the existence of personal interest in being able to have a product with a 100% natural quality in fully urbanized spaces, without too many places oriented to the production of raw materials and where the ecological product is charged to a good bite.
The benefits of urban beekeeping, however, transcend the simple fact of obtaining honey, as having bees in the cities implies a more effective pollination of trees and flowers in parks and gardens, which in turn, it translates into a decrease in citizens' allergies and a possible higher and better quality fruit harvest. It also means having a more direct connection with nature, thus increasing the interest and vocation of the general population with bees and beekeeping activities and enhancing their visibility.
In addition, we would not only be improving our quality of life but also that of bees, as they respond much better to urban pollution than to pesticides used in the fields and above, it is shown that there is more floral variety and large trees in cities than in certain rural areas, which means a better diet and quality of life for bees.
However, here in Spain, although some pilot tests have been carried out in Madrid and Barcelona, ​​the legal regulations do not make it entirely possible to keep hives in a particular way in the middle of the city (terraces and rooftops). We must keep in mind that although bees do not usually attack humans because they focus their attention on flowers, the bee "mellifera iberiensis" is more aggressive than other species found in the North and Eastern Europe and this generates some skepticism. However, I think that we should carry out studies that investigate the feasibility and whether if it can has any negative effects on cities or its citizens.
I would love to see and enjoy greener cities 🌱 in the future and be able to coexist with other animals, such as bees (given the amount of benefits it would bring us) in a more harmonious and direct way. What about you?
Sources:
Initial capsule picture: https://snohetta.com/project/186-vulkan-beehive
Abelles i ciutats en harmonia – Apicultura Urbana: http://www.apiculturaurbana.com/apicultura-urbana/
¿Es posible la apicultura urbana en España? – Luis Pérez:
https://abejas.org/es-posible-la-apicultura-urbana-en-espana/
¿Qué es la Apicultura Urbana? – Universo miel: https://www.universomiel.es/que-es-la-apicultura-urbana/